My Blog
Posts for: April, 2019
By Today's Smile Center
April 15, 2019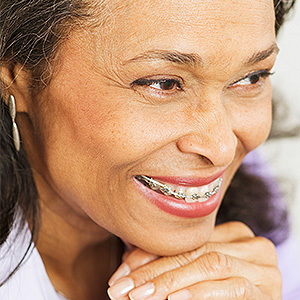 Bite problems are quite common—as many as 75% of adults may have some form of orthodontic issue. Unfortunately, there's also something else just as common: that many people believe they're too old to correct it.
This belief is a myth—while there are factors that could prevent orthodontic treatment, age isn't necessarily one of them. If your teeth, gums and bone are sound and you're in reasonably good general health, you most likely can have a bite problem corrected even beyond middle age.
Why worry about it, though, if you've lived this long with misaligned teeth? For one thing, straightening teeth with braces or clear aligners can boost your dental health. Teeth that are in normal alignment are easier to keep clean of disease-causing bacterial plaque. You'll also find it easier to chew than if your bite is out of line.
A more attractive, straighter smile can also impact your social and professional life. Having a smile you're not embarrassed to show can boost your self-confidence and image. Research on people who've undergone orthodontic treatment in adulthood have found improvements in social connection and even expanded career opportunities.
Orthodontic treatment can make a difference with your health and life, no matter your age. But while the number of years you've lived won't necessarily make a difference, what those years have brought could rule it out.
If, for example, you've lost significant bone structure due to diseases like periodontal (gum) disease, your teeth may not be able to sustain the new position created by braces or aligners without a form of permanent fixation. If you have systemic conditions like severe cardiovascular disease, bleeding problems, leukemia or uncontrolled diabetes, orthodontic treatment could worsen those conditions. And certain prescription drugs may pose similar problems as well.
That's why you'll need to undergo a thorough dental exam, as well as provide a complete medical history to your orthodontist. If nothing prevents you from treatment, though, you may be able to regain a new smile, better health and a new confidence in life.
If you would like more information on adult orthodontics, please contact us or schedule an appointment for a consultation. You can also learn more about this topic by reading the Dear Doctor magazine article "Orthodontics for the Older Adult."
By Today's Smile Center
April 05, 2019
Although not high on the glamour scale, saliva is nonetheless an important ingredient in a healthy life. This "multi-tasker" fluid helps break down your food for better digestion and supplies antibodies to thwart threatening microorganisms coming in through the mouth.
But perhaps its most important role is to neutralize mouth acid that can erode tooth enamel. Without this buffering action, you're at much greater risk for tooth decay and possible tooth loss.
That's why chronic dry mouth is much more than just an unpleasant feeling. If you're not producing enough saliva, your risk for developing tooth decay (and periodontal disease too) skyrocket.
Here are 3 things you can do to avoid dry mouth and promote healthier saliva flow.
Watch what goes in your mouth. Some foods, beverages and other substances can interfere with saliva production. Caffeine in coffee, sodas and other beverages can cause your body to lose water needed to produce adequate saliva. So can alcohol, which can also further irritate dry tissues. And any type of tobacco use can decrease saliva production and heighten the dry mouth effect, another good reason to kick the habit.
Drink more water. Water is the main ingredient in saliva, so keeping yourself hydrated throughout the day helps ensure a ready supply. Drinking water also helps dilute acid concentrations and washes away leftover food particles that could become a food source for oral bacteria, the main source for mouth acid.
Ask questions about your medications. Many medications can trigger chronic dry mouth including drugs to treat cancer, high blood pressure, depression or allergies. If you have chronic dry mouth, talk with your physician about the medications you're taking and ask if there are any alternatives that have less of an effect. If not, drink more water, especially while taking oral medication.
You can also reduce dry mouth symptoms by using a humidifier while you sleep or using products that boost saliva production. And be sure you're brushing and flossing daily to further reduce your risk of dental disease. Managing dry mouth won't just make your mouth feel better—it will help your teeth and gums stay healthier too.
If you would like more information on avoiding dry mouth, please contact us or schedule an appointment for a consultation.